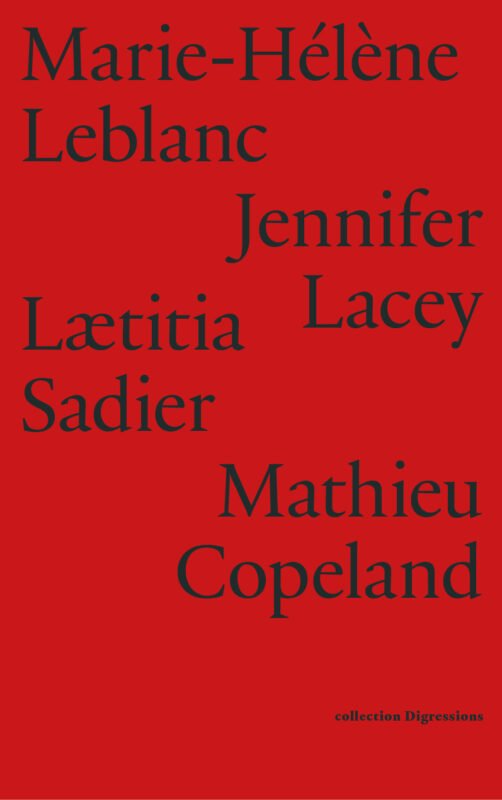 La collection Digressions présente son dixième opus à l'occasion de la première de Une exposition mise en scène, samedi 11 septembre 2021 au théâtre de La Ferme du Buisson et lors du Salon MAD du 10 au 12 septembre à la Fondation Fiminco / Romainville.
Mathieu Copeland, commissaire d'exposition, questionne la signification de ce qu'il nomme « chorégraphier l'exposition » au fil de trois conversations avec Marie-Hélène Leblanc, directrice de la Galerie UQO, Jennifer Lacey, chorégraphe et Lætitia Sadier, musicienne.
The Digressions series welcomes its tenth opus with A Staged Exhibition – on Saturday 11 September 2021 at the Theatre of La Ferme du Buisson -, which finds curator Mathieu Copeland delving into "choreographing exhibitions" in conversations with director of Galerie UQO Marie-Hélène Leblanc, choreographer Jennifer Lacey and musician Lætitia Sadier. The publication will also be presented at MAD 10 – 12  September at Fondation Fiminco / Romainville.
Digressions est une collection initiée en 2017 par Julie Pellegrin et l'équipe du Centre d'art contemporain de La Ferme du Buisson en partenariat avec les éditions Captures. Par le biais de conversations avec les artistes invités, les carnets donnent accès aux coulisses des projets et témoignent des réflexions, des recherches, des méthodologies et parfois des doutes ou des tâtonnements qui nourrissent un processus de travail.
The Digressions series has been initiated in 2017 by Julie Pellegrin and the Centre for Contemporary Art team of La Ferme du Buisson in association with Captures éditions. Through conversations with guest artists, the notebooks give behind the scenes access and bear witness to reflections, research, methodologies and sometimes the doubts and the trial and error that feed the working process.