digressions--ahond-celine-01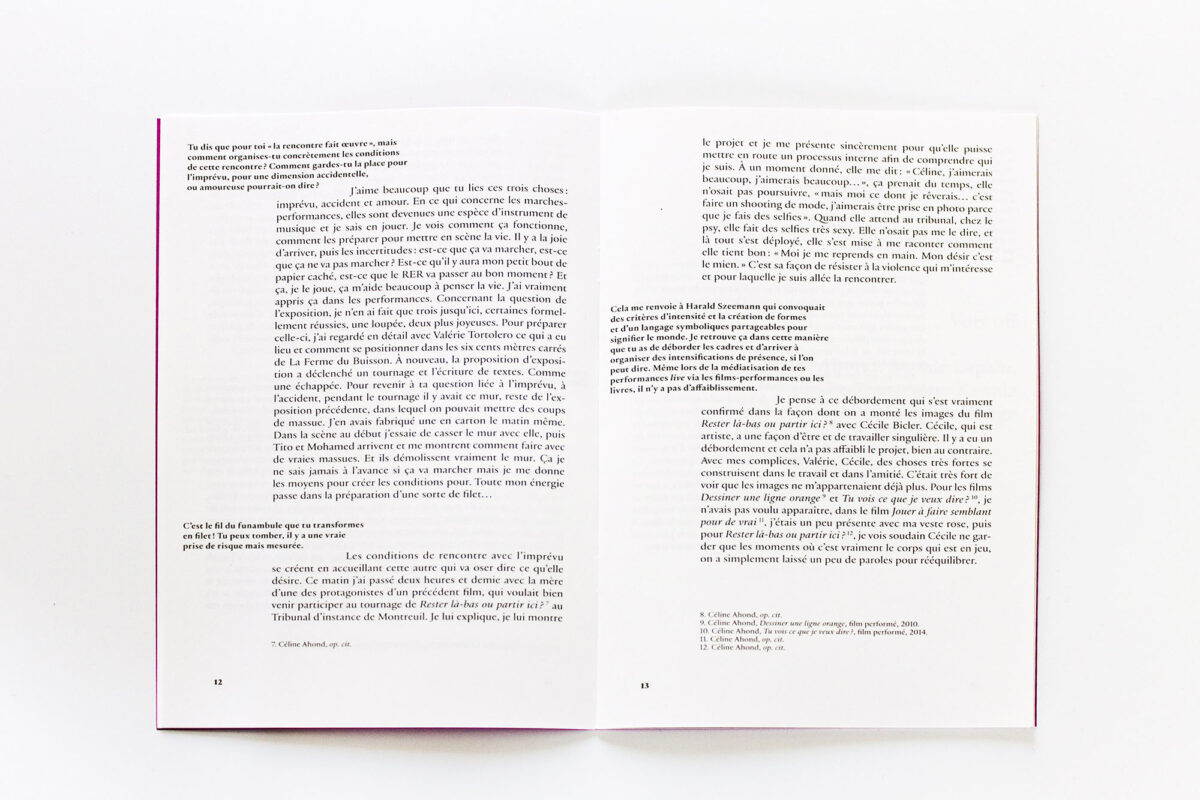 digressions--ahond-celine-02
digressions--ahond-celine-03
digressions--ahond-celine-04
digressions--ahond-celine-05
digressions--ahond-celine-06
digressions--ahond-celine-07
digressions--ahond-celine-08
digressions--ahond-celine-09
This fifth number of Digressions finds Céline Ahond returning to her driving obsessions – presence, dexterity, movement, interpersonal encounters – and the challenges posed by the composition of an exhibition. Her conversation with Julie Pellegrin leads to fragmentary considerations with Anne Kawala, Sophie Lapalu, Elodie Petit and Lidwine Prolonge.
Fuelled by spells of walking, reconnoitring and encounters, Ahond's work is a blend of collaborative ventures, engagement with the urban, mental images, and narratives. Much appreciated for her performance-lectures involving narratives of all kinds, printed and projected images, video systems and presentations of objects, at La Ferme du Buisson she is offering her first major exhibition in the form of a book designed in association with a graphic artist.
Digressions 
Initiated in 2017 by Julie Pellegrin and the Centre for Contemporary Art team in collaboration with Captures éditions, Digressions is a series of interviews (bilingual French / English) that accompanies the programme. Through conversations with guest artists, the notebooks give behind the scenes access and bear witness to reflections, research, methodologies and sometimes the doubts and the trial and error that feed the working process. By giving a voice to artists, the entire collection brings out very singular voices that resonate with each other and explore shared questions around the performance and creation of exhibitions, the physical and political engagement and the decompartmentalization of disciplines.
For each issue, the colour of the cover paper is changed, with or without embossing, to distinguish the publication in relation to each artistic project. The inside pages are printed in one pantone tone and the switch to English language materializes in a double page image drawn from research work. Postcards from the exhibitions are printed and inserted randomly into the notebooks like bookmarks. Claire Moreux's elegant and dynamic layout follows the meanders of reflection by inviting the reader to navigate, literally, through the text.
32 pages
21,5 x 13,5 cm
Postcard
French / english
Authors: Céline Ahond, Julie Pellegrin, Anne Kawala, Sophie Lapalu, Élodie Petit, Lidwine Prolonge
Graphic design: Claire Moreux
Publisher: Captures éditions / Ferme du Buisson
General editor: Valérie Cudel with Julie Pellegrin
Editorial coordination: Céline Bertin
Copyeditor: Sophie Streefkerk
English translation: Kate McCrickard

ISBN : 978-2-9558778-6-9
6 postcards = 3,00 €
1 issue = 6,00 €
3 issues = 13,50 €
6 issues = 27,00 €
9 issues = 40,50 €
10 issues = 45,00 €
11 issues = 49,50 €