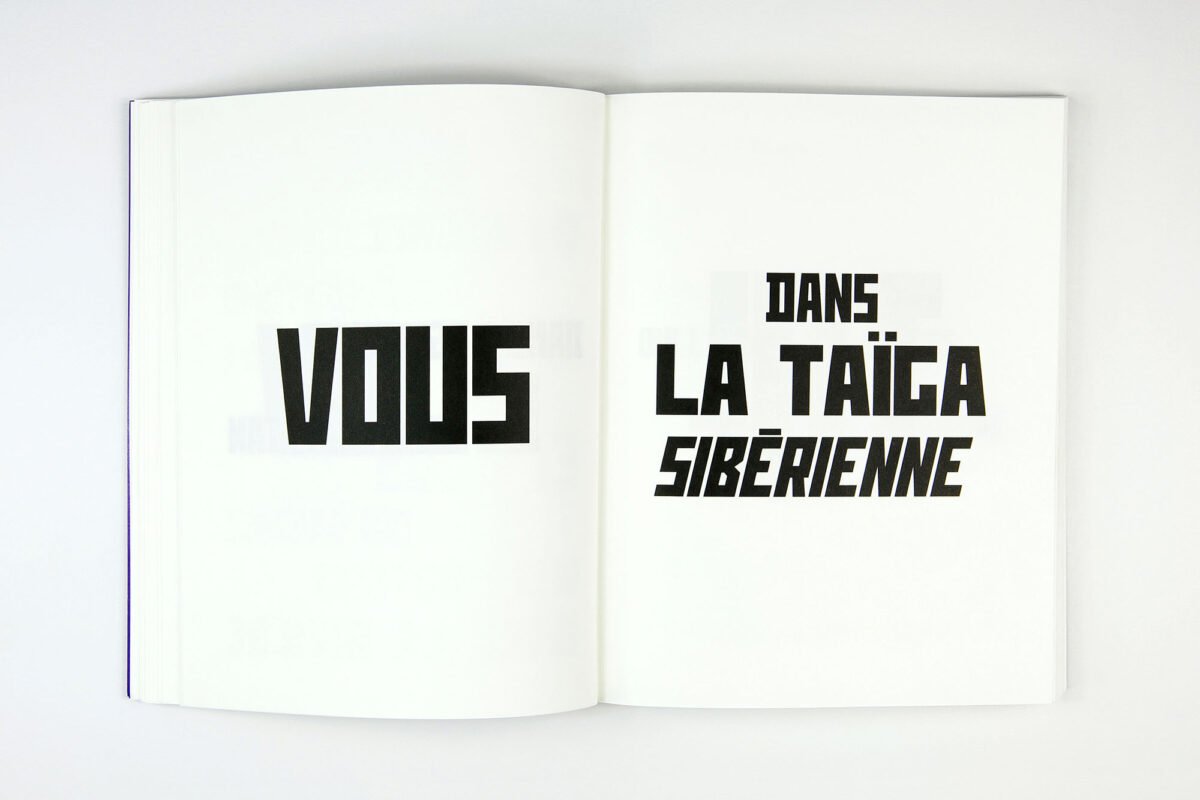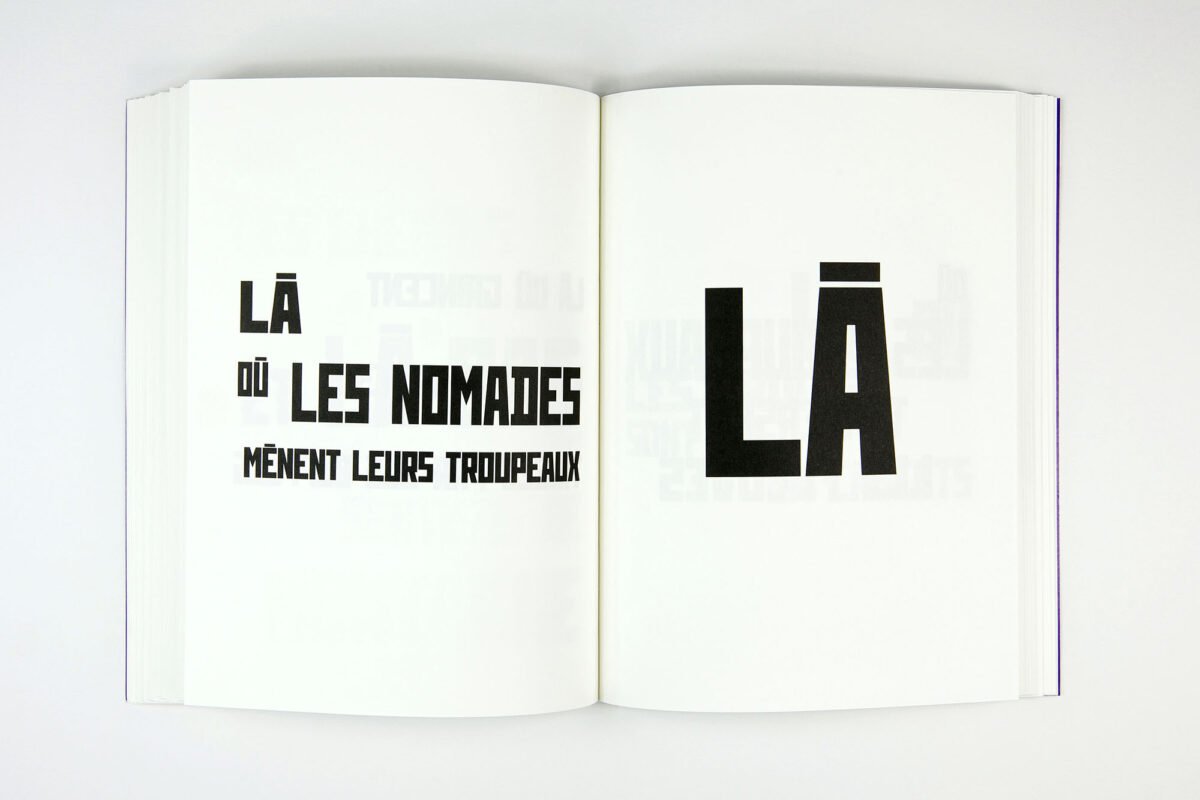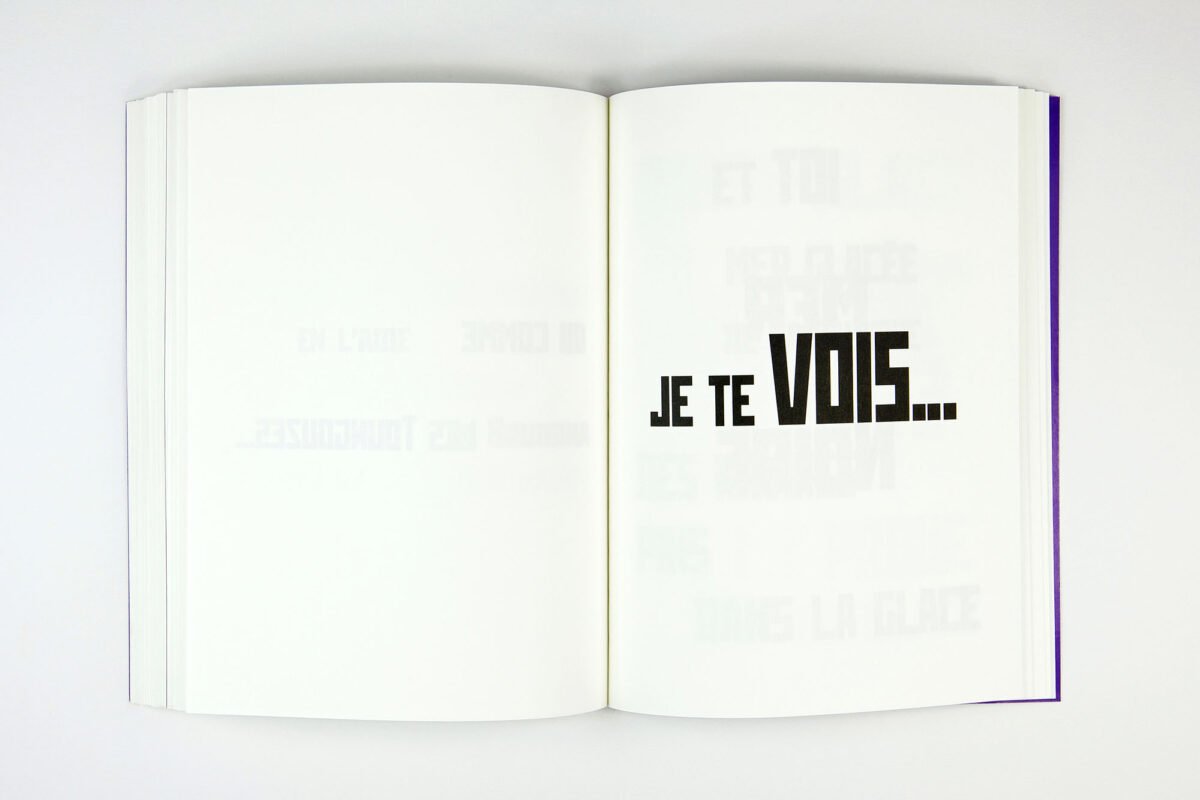 This artist's book is a continuation of Michel Aubry's practice, the reinterpretation and reconstruction of an existing work and source of inspiration. It comprises a reprise of the title cards in Dziga Vertov's film, A Sixth Part of the World (1926). The texts were translated and spread over 208 pages. The choice of font was as close to that used for the original intertitles as possible.
Michel Aubry thought of the composition of this variation in eight chapters: In the country of the capital; You who bathe your sheep in ocean water and you who bathe your sheep in river water; And you who are sitting in this screening room; From the Kremlin to the Chinese border; Export products circulate on roads of Soviet earth; The boat leaves again the next day; The black sea; I see you.
A Sixth Part of the World was the response to a commission intended to circulate throughout all of the Soviet Republics. Vertov shows how the USSR intended to structure society around the collective efforts of construction and production. Aubry's artist's book is an extension of a commission given to him by the Parcs naturals régionaux du Pilat et du Vercors, on the history of and the future of their industries.
"I look at A Sixth Part of the World, a film made by Dziga Vertov in the USSR. I see a world of inexhaustible resources, men populating all regions, hunting, fishing, agriculture, livestock breeding, craft, industry and machines. For many western artists of my generation, the most accomplished forms in Modernism —these works that I often call idols—and their creators accompany us like heroic figures who haunt the contemporary world… I remain split between the Constructivists who bound their art to productivity, speed, to steel or to glass, and a contemporary environment in love with freedom and invention that has difficulty in getting over the consequences of its extraordinary development." Michel Aubry, January 2013
This reinterpretation of A Sixth Part of the World's intertitles brings an autonomous life to the text, which, in this new rhythm, becomes a song, a declaimed poem. It is up to the reader to give it a new context.
208 pages
19,5 x 26 cm
Stitched notebooks
Four colour printed cover
Cloth bound
Inside pages printed in one colour: black
Graphic design: Nicolas Romarie
Layout: Monique Sjouwerman
Published with the support of the edition of the Centre national des arts plastiques and the Rhône-Alpes region and the Vercors Regional Natural Park