digressions--balcou-beatrice-01
digressions--balcou-beatrice-03
digressions--balcou-beatrice-04
digressions--balcou-beatrice-05
digressions--balcou-beatrice-06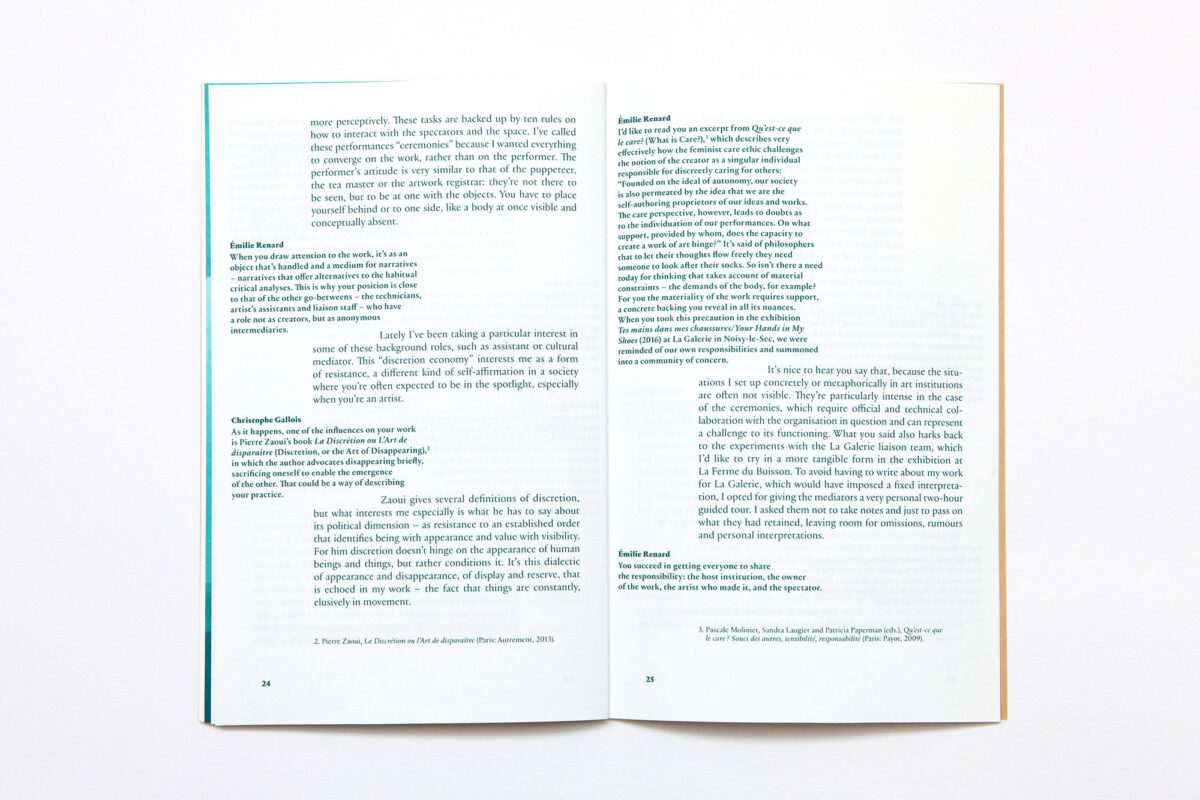 digressions--balcou-beatrice-07
digressions--balcou-beatrice-08
digressions--balcou-beatrice-09
digressions--balcou-beatrice-02
digressions--balcou-beatrice-10
In the course of a four-way  discussion Béatrice Balcou talks about the creation of her Untitled Ceremonies – low-key performances presenting works by other artists – and her Assistance Pieces and Placebo Works; and in doing so reveals how she involves us in a "community of attentiveness". 
In performances, sculptures and installations Béatrice Balcou creates situations offering innovative exhibition rituals that challenge our way of looking at and perceiving objects and the relationship between working gesture, care-giving gesture and choreographic gesture.
Digressions
Initiated in 2017 by Julie Pellegrin and the Centre for Contemporary Art team in collaboration with Captures éditions, Digressions is a series of interviews (bilingual French / English) that accompanies the programme. Through conversations with guest artists, the notebooks give behind the scenes access and bear witness to reflections, research, methodologies and sometimes the doubts and the trial and error that feed the working process. By giving a voice to artists, the entire collection brings out very singular voices that resonate with each other and explore shared questions around the performance and creation of exhibitions, the physical and political engagement and the decompartmentalization of disciplines.
For each issue, the colour of the cover paper is changed, with or without embossing, to distinguish the publication in relation to each artistic project. The inside pages are printed in one pantone tone and the switch to English language materializes in a double page image drawn from research work. Postcards from the exhibitions are printed and inserted randomly into the notebooks like bookmarks. Claire Moreux's elegant and dynamic layout follows the meanders of reflection by inviting the reader to navigate, literally, through the text.
Biographies
Christophe Gallois has been a curator at Mudam Luxembourg since 2007, focusing on concepts including time, language, the image, sound, and the spatial interconnections between books and exhibitions. His interest in Béatrice Balcou's work date back many years. 
Émilie Renard is a curator and art critic. From 2012 to 2018 she was director of La Galerie, Centre for Contemporary Art in Noisy-le-Sec, where in 2016 she and curator Vanessa Desclaux organised a one-year exhibition entitled Your Hands in My Shoes that included the work of Béatrice Balcou. 
Julie Pellegrin is the director of the Ferme du Buisson Centre fort Contemporary Art (2005-2020). 
32 pages
21,5 x 13,5 cm
Postcard
French / English
Authors: Béatrice Balcou, Christophe Gallois, Julie Pellegrin, Émilie Renard
Graphic design: Claire Moreux
Publisher: Captures éditions / Ferme du Buisson
General editor: Valérie Cudel with Julie Pellegrin
Editoral coordination: Céline Bertin
Copyeditor: Sophie Streefkerk
English translation: John Tittensor
This sixth book in the Digressions series appears with the aid of the publications fund of the National Centre for Visual Arts

ISBN : 978-2-9558778-7-6
6 postcards = 3,00 €
1 issue = 6,00 €
3 issues = 13,50 €
6 issues = 27,00 €
9 issues = 40,50 €
10 issues = 45,00 €
11 issues = 49,50 €