bouchain-patrick--les-bogues-du-blat-01
bouchain-patrick--les-bogues-du-blat-02
bouchain-patrick--les-bogues-du-blat-03
bouchain-patrick--les-bogues-du-blat-04
bouchain-patrick--les-bogues-du-blat-05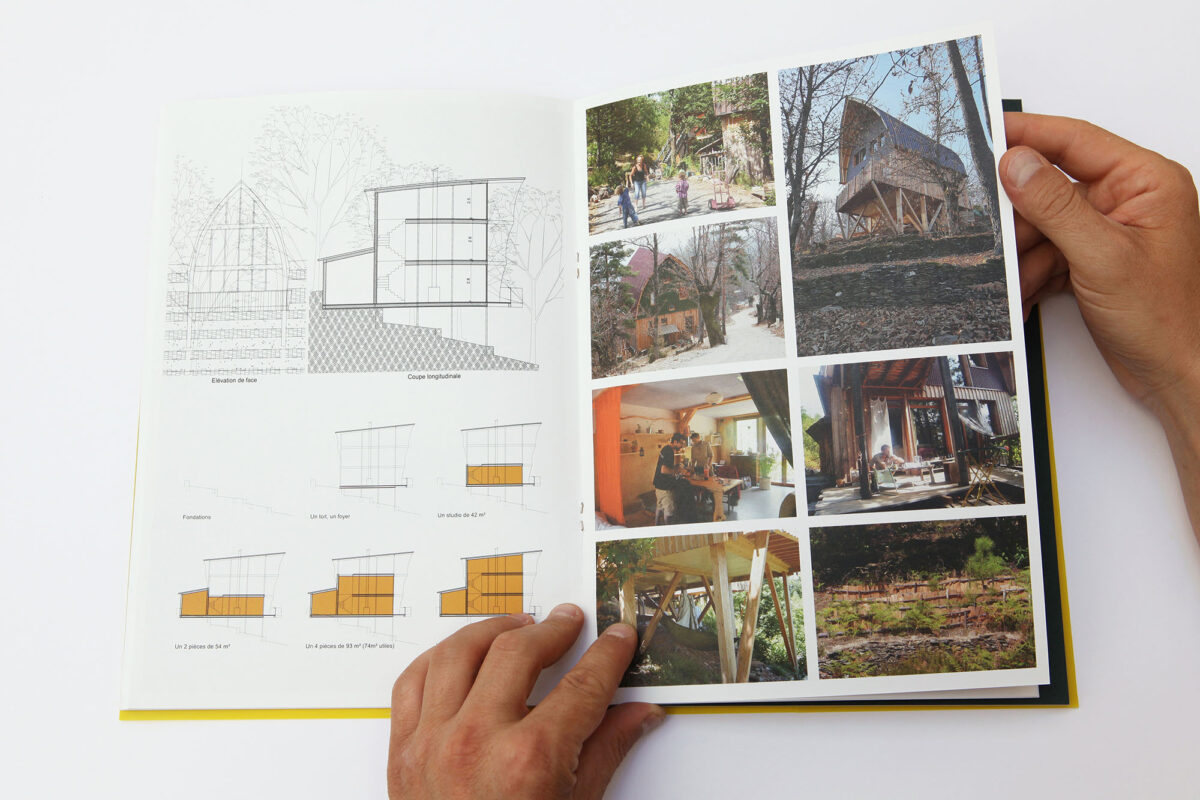 bouchain-patrick--les-bogues-du-blat-06
bouchain-patrick--les-bogues-du-blat-07
bouchain-patrick--les-bogues-du-blat-08
bouchain-patrick--les-bogues-du-blat-09
bouchain-patrick--les-bogues-du-blat-10
bouchain-patrick--les-bogues-du-blat-11
bouchain-patrick--les-bogues-du-blat-12
bouchain-patrick--les-bogues-du-blat-13
bouchain-patrick--les-bogues-du-blat-14
bouchain-patrick--les-bogues-du-blat-15
The two notebooks record a singular experience: a commission given by Beaumont's (Ardèche) elected officials to Construire architecture studio – Patrick Bouchain, Sébastien Eymard, Loïc Julienne and Jean Lautrey – to construct eight social housing units. This bold initiative for a village of two hundred inhabitants is part of the pursuit of a municipal development policy to make housing accessible to all. It aims to counter the devitalization of villages due to a growing pressure on the land, to help set up young workers, and to maintain the staff of the single-class communal school.
The first notebook, polyphonic, tells the story of this collective adventure. It traces the elected officials' commitment (within the New Patrons programme); the different stages of the project beginning with the PLU; the meeting with the architects, which leads, among other things, to an evolution of the specifications, but especially to a sharing of the same values: to involve the future inhabitants in the design of their future home, to encourage building your own home, and to give the act of building a cultural, collective and festive dimension.
This story is also a reflection of endurance: It took eight years from the first meeting with Patrick Bouchain to the second stage of building three houses. The successive dissuasions and the obstacles encountered when the social housing norm is questioned are exposed, but there is also a commentary on the life of a building site, on the enthusiasm of the companies involved in constructing the houses, and the testimony of the first inhabitants of the Bogues de Blat.
The second notebook comprises a facsimile of the sketchbook that Patrick Bouchain took to each meeting at Beaumont. Besides the beauty of his drawings, Patrick Bouchain shows us his first glimpse of the chestnut forest, a dream-like moment when he discovered the site. The notebook provides access to a thought process and to the key concepts of the Bogues de Blat in dialogue with the site, while recalling the values ​​of the architect and those of Construire architecture studio on modes of living.
The combination of the two notebooks shows the reader the project's beauty.
With the contribution of Beaumont's elected representatives: Jean-Rémi Durand Gasselin, Jacqueline Mielle, Pascal Waldschmidt; architects Patrick Bouchain and Loïc Julienne, the residents of Bogues and the companies involved in constructing the houses; Catherine Flament and Valérie Cudel.
Published with the support of the Rhône-Alpes Region and the Fondation de France as part of the New Patrons programme.
21 x 29,7 cm
Two 48-page notebooks
Two bronze pins
Printing of texts, photographs and drawings in the four-colour process
Graphic design: Nicolas Romarie with the help of Jocelyne Fracheboud
Published within the Fondation de France's New Patrons programme and with the support of the Rhône-Alpes Region